Grand Seiko and Watches of Switzerland are pleased to invite you to discover Grand Seiko's history, craftmanship and latest collections at our Watches of Switzerland NEX boutique from 15th to 26th July (see Exhibition details below).
Limited-time only exclusive preview

Exclusively from July 15th to July 18th, 20 watch enthusiasts will be invited for an exclusive discovery of Grand Seiko. Register at the end of the article for a dedicated viewing session with our team.
Discover the most interesting watches of our Grand Seiko pop-up
Explore the art of Japanese artistry in this intimate display of curated museum pieces, including the very first Grand Seiko watch in 1960, watchmaking parts, and how it has evolved with the nature of time over the past 60 years.
Grand Seiko History
In honour of this exhibition, let us take you through a journey of Grand Seiko's interpretation of time and its celebration of the natural world.
1960: The First Grand Seiko watch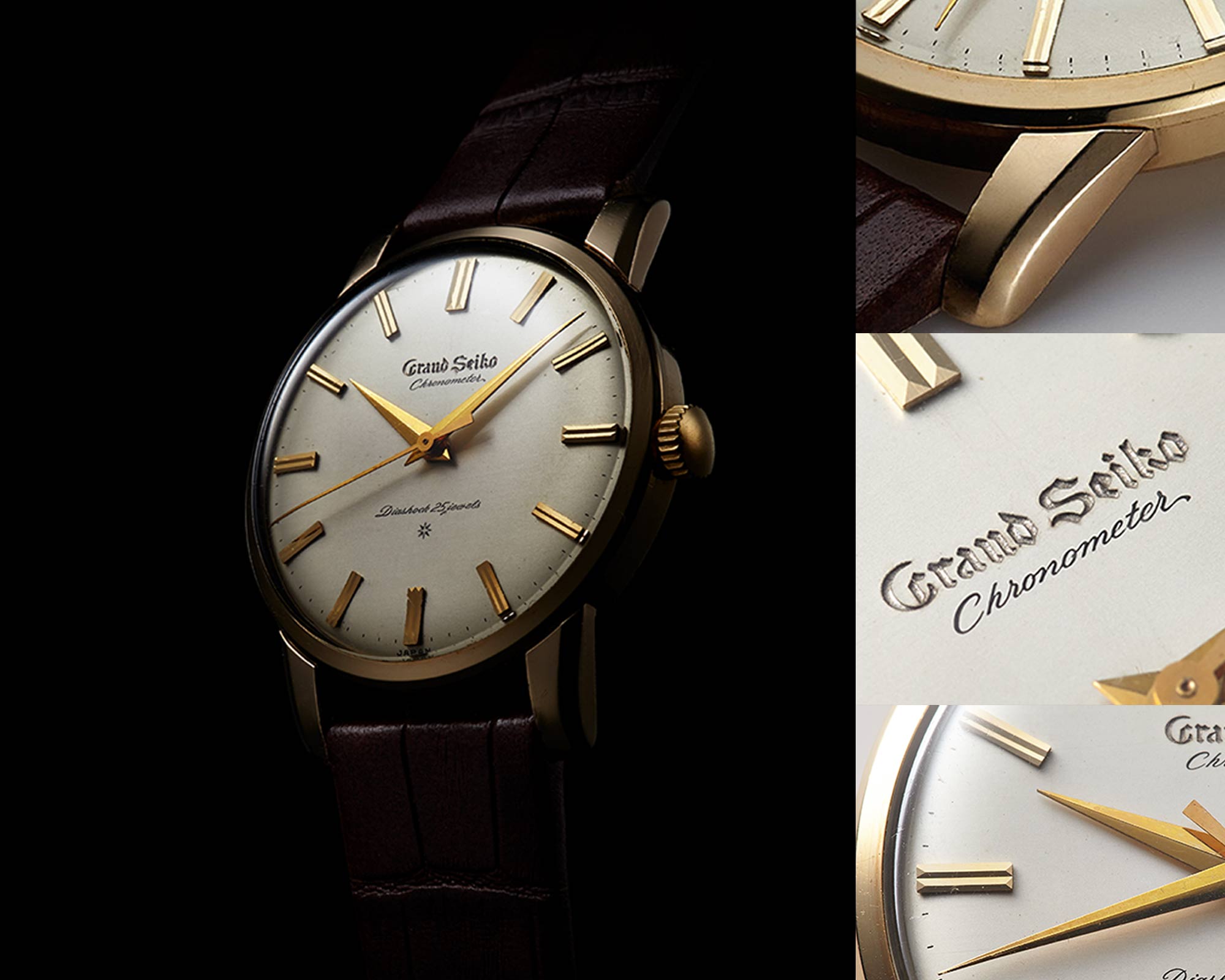 The first Grand Seiko watch from 1960
It took a new generation of craftsmen and women led by Mr Kintaro Hattori, founder of Seikosha (the original factory was set up in 1881, its name means "The House of Precision") to create a new style of watch. Ahead of his time, Hattori's vision was to combine a high-precision movement with a timeless design aiming at pure practicality.
For half a century, Seikosha had built an expertise in timepiece manufacturing, from the first pocket watch ever manufactured in Japan in 1895 or the first wristwatches in the 1910s and finally Seiko's first in-house hairspring in 1940.
"It is better to do something continuously, perpetually and untiringly than to hustle and fail."
Kintaro Hattori, founder of Seikosha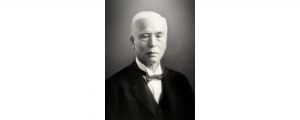 Grand Seiko was born in 1960, leveraging on several decades of research & development: from the hairspring to the balance wheel, let alone the special alloy from which the watches were made, every single component was developed and produced in-house. The first Grand Seiko watch housed a new generation movement – caliber 3180, with a 12mm balance wheel and movable stud specially engineered for greater accuracy.
The foundations of what would later become the Grand Seiko style were already present. Indeed Grand Seiko philosophy has been from its very early stages about combining "long-lasting precision" and "total practicality". The design of the first Grand Seiko in 1960 was both practical and refined, sober and remarkably elegant, accessible and stylistically distinctive.
1967: The Grand Seiko style is born
1967 marked a new milestone in Grand Seiko history. While the engineering team had their eyes focused on the accuracy quest, a new young designer named Taro Tanaka had joined the team. He spent a lot of time observing watch buyers in-store and he came out with 2 observations: on one hand, Grand Seiko watches lacked a distinctive, immediately recognizable identity, and on the other hand, the watches needed more brilliance in order to catch the light in the showcases.
With the 44GS, the unique "Grand Seiko Style" was launched and has since continued to endure and enrapture watch collectors for decades after.
Discover the Grand Seiko Style – "The Spirit of Takumi"
Let's take a closer look at the 44GS. The polishing is the key answer to capture light and achieve the ultimate brilliance. From its case lines to its lugs and its hands, every surface has been mirror-polished. Down to the smallest detail, the use of light is maximal: every facet of the hands and markers is designed to create this crisp, clear, harmonious reflection.
Like every other Grand Seiko watches, the polishing is done by hand, following the traditional "Zaratsu" technique. This subtle interplay of light and shadow is distinctive of the Grand Seiko style and embodies a Japanese idea of beauty.
1967: The first automatic model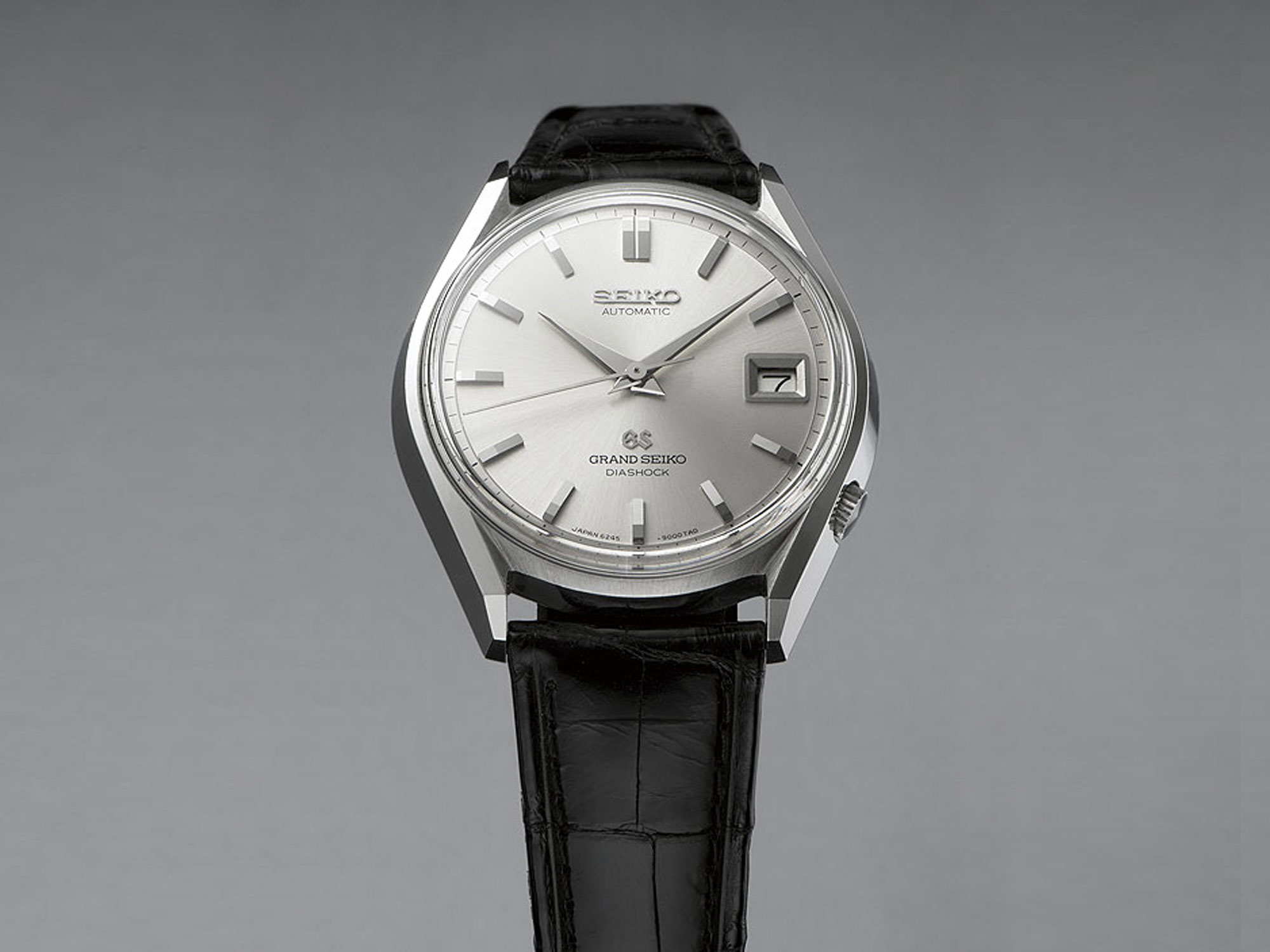 The ref 62GS was the first self-winding model by Grand Seiko
A witness to its own time, the model 62GS was the first self-winding model by Grand Seiko. To enhance this major step and remind us that daily time setting is not necessary, the crown was moved from 3pm to 4pm.
Grand Seiko Craftsmanship
You will also be able to discover the unique techniques and finishes Grand Seiko is renowned for.
Zaratsu polishing
Zaratsu polishing is essential to the achievement of the Grand Seiko style. It refers to the art of achieving a mirror finish on some flat surfaces of the watch case and hands. Grand Seiko watches usually combine Zaratsu polishing with hairline finish.
Snowflake dial manufacturing
Grand Seiko is famous for its Snowflake dial, designed to celebrate the beauty of the mountains surrounding Grand Seiko Watch Studio.
There are over 80 stages of production necessary to craft a Snowflake dial, including die stamping, machining, plating, printing, setting the logo and indexes. A dedicated craftsperson is responsible for each of these steps. Thanks to Grand Seiko workshops' highly skilled expertise, the snowflake dial is slowly layered and artfully hand-made to create the textured effect of snow.
In-house crystal manufacturing
Grand Seiko grows its own crystals for a period of three months and only selects the best quality of crystals to produce the movements that equip its quartz watches.
Grand Seiko created their first quartz watch in 1988. In order to achieve the highest possible accuracy, Grand Seiko manufactures every single component in-house. Only quartz crystals grown in Grand Seiko's own facilities are used.
Spron Alloys
The Spron alloys boasts a better impact resistance and magnetic resistance than previous alloys.
In its quest for performance and precision, Grand Seiko has developed a new generation of Spron alloys for the hair spring. The Spron alloys is the ultimate engine driving the precision of time.
Grand Seiko Calibers
Caliber 9R65 Spring Drive GS
Grand Seiko automatic Spring Drive Caliber 9R65 with 3-day power reserve
Caliber 9R65 is the most standard of the 9R Spring Drive calibers and equip many Grand Seiko models. This automatic movement boasts 72 hours of power reserve and has an accuracy of ±1 second per day .
Grand Seiko is very famous for its Spring Drive innovation. Indeed this technology leverages on Grand Seiko double expertise in both mechanical and electronic watches. It implies a rotor connected with an electronic circuit and quartz oscillator. However the movement is powered with the sole energy created by the mainspring.
Caliber 9S85 High-Beat GS
Grand Seiko high-beat Caliber 9S85
With an oscillation rate of 10 beats per second, the Caliber 9S85 was developed to achieve greater accuracy. While a high-beat movement may usually imply having a shorter power reserve, Grand Seiko achieved a prowess with the Caliber 9S85: it delivers an accuracy of +5 to -3 seconds a day together with a 55-hour power reserve.
You have ten days to visit and dive in Grand Seiko style.
Discover the most interesting watches of our Grand Seiko pop-up
Exhibition Details
Exclusive Experience with the Grand Seiko team
15th – 18th July
We are pleased to invite watch enthusiasts for an exclusive discovery of Grand Seiko. Register below for a dedicated viewing session with our team. Besides viewing the exhibition pieces, you will be able to engage with the representatives of Grand Seiko.
This exclusive experience is available by appointment only and limited to the first 20 guests who register online [register your interest below]
Public Viewing:
18th – 26th July
Watches of Switzerland NEX
23 Serangoon Central #01-41
Singapore 556083
Monday to Sunday: 11am – 9pm
Register here for an Exclusive Discovery of Grand Seiko: